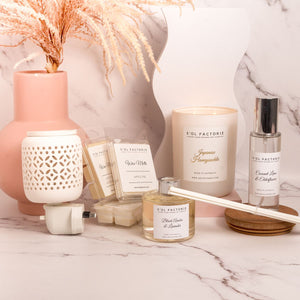 We know that sometimes our vast array of scents and products can be a little overwhelming & it's so hard to just pick a few…
So, we have made it easy and packaged up a range of favourites to get you started at a pretty awesome discount! 
STARTER PACK 2 contains:
XXL CANDLE - Vanilla Caramel 
CARVED CERAMIC PLUG IN WARMER - White
DIFFUSER - Champagne & Strawberries 
ROOM SPRAY - Coconut Mango
MELTS - Hot Jam Donut
MELTS - Banana Bread
MELTS - Vanilla Cream
Please note that we have worked hard to hand make each item in these sets & have prepackaged them, so, we can't change anything in the set, they're sold as listed. 
We are sure you'll love the selections we have curated. 
*Images are an example of products not the actual scents, please refer above for the scents in this pack.