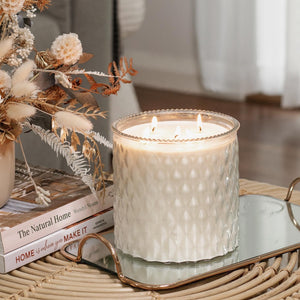 The ultimate in candles, our Lux Diamond is a perfect statement piece in any home. 

You will smell it unlit in your room, but just wait for the glory when you spark her up! 
Featuring a huge 15cm x 20cm Diamond Glass that can also be reused as a vase, we fill your candle to order with 1850g of Natural Soy Wax and the maximum fragrance load possible - commonly known as triple scented. 
Burning beautifully with 4 (yes 4!!) natural cotton wicks, she is a big candle and needs 4 wicks!
Your hand crafted Lux Diamond will scent & illuminate your home for up to 200 hours! 

Not recommend for small spaces, this stunner is HUGE & SUPER STRONG - designed for open plan living. Please don't buy if you live in a small apartment. 

Our Lux Diamond Candles are custom poured so please all up to a week for us to send them & another week for them to cure. They are worth the wait xxxx.